MS Dhoni parents tested positive for covid-19, admitted to hospital in Jharkhand
Ranchi: Corona infection havoc all over the country. People are constantly falling for it. Everyone, from politicians to actors and from the common man to the special person, are coming in its favor. Meanwhile, news has come that Corona has wreaked havoc in the family of Mahendra Singh Dhoni, the former captain of the Indian cricket team.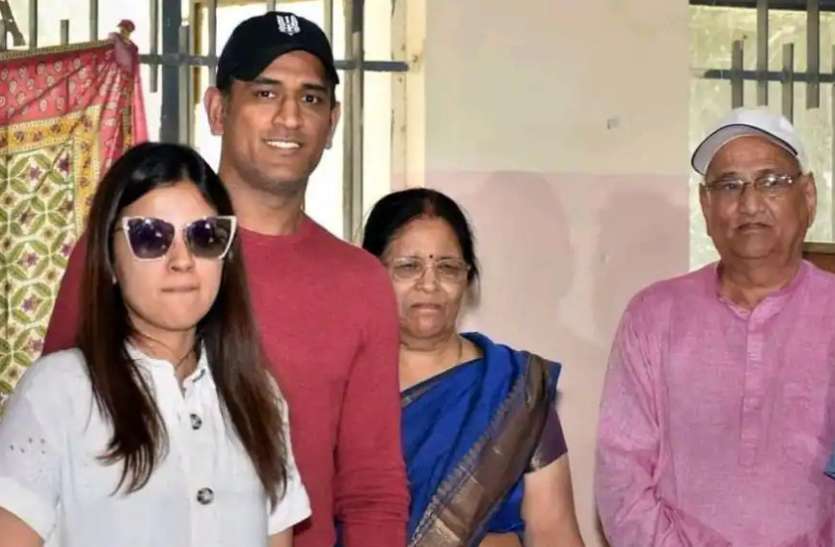 ---
Parents of former India team captain MS Dhoni have been found positive in the Kovid-19 test. Dhoni's parents have been admitted to the Pul Superspecialty Hospital in Ranchi. Dhoni is currently heading the Chennai Super Kings in the Indian Premier League. CSK played three matches at the Wankhede Stadium in Mumbai, winning two of them. After the next two matches, CSK's team will go to Delhi for the next leg of the tournament.
In the case of Corona virus, it is increasing every day. The Jharkhand government on Tuesday announced a lockdown in the state from April 22 to April 29, with some exemptions. Major services will continue during lockdown. Religious places will remain open, but crowds of devotees will not be allowed. According to the instructions of the state government, agricultural, construction, industrial and mining activities will be allowed to operate during lockdown. In India, 2,95,041 fresh cases were reported within 24 hours on Wednesday. The number of active cases has crossed 21 lakh.
---
Lockdown is applicable in Jharkhand

Corona virus continues to wreak havoc in Jharkhand and meanwhile the state government has imposed a week-long lockdown to break the corona chain. It has been named 'Health Safety Week'. The government has announced a lockdown in the state from 6 am to 6 am on April 29.
Announcing the lockdown, CM Hemant Soren said that it is necessary to break the chain of corona infection in the state. Our priority is to secure both life and livelihood. Therefore, it has been decided to implement 'Health Safety Week' in the state. I believe that with this step we will be able to break the corona chain.
Please tell that in the last 24 hours in Jharkhand, 46 more patients died due to corona virus infection due to which the death toll in the state has increased to 1502.
Meanwhile, the total number of infected people has increased to 167346 as 4401 new cases of corona infection have been reported. According to the Health Department, out of 167346 infected people in the state, 135256 have recovered and returned to their homes. Apart from this, treatment of 30588 other Corona Infections is going on in various hospitals.
---
Mahendra Singh Dhoni is playing IPL

Mahendra Singh Dhoni is currently playing for Chennai Super Kings in the 14th season in the IPL. Significantly, MS Dhoni's family is originally from Uttarakhand, but his father Pan Singh settled in Bihar after getting a job in MECON in Ranchi in 1964, this part now comes in Jharkhand.
Dhoni has led CSK in the IPL since the league's inception and has won three IPL titles with the team in 2010, 2011 and 2018.
CSK have had a mixed start to this season of the league as they have won two and lost one out of their three matches. They sit on the third position on the points table with four points and will be seen in action next on Wednesday when they take on Kolkata Knight Riders in Mumbai. Dhoni, one of the most successful captains in IPL history, recently played his 200th IPL match for CSK. He has 4650 runs for CSK from 207 matches with 23 fifties and a strike rate of 136.52.
---
Also Read : RCB vs MI HEAD TO HEAD RECORDS & STATS 2021
MS Dhoni parents tested positive for covid-19, admitted to hospital in Jharkhand
MS Dhoni parents tested positive for covid-19, admitted to hospital in Jharkhand
MS Dhoni parents tested positive for covid-19, admitted to hospital in Jharkhand
MS Dhoni parents tested positive for covid-19, admitted to hospital in Jharkhand
MS Dhoni parents tested positive for covid-19, admitted to hospital in Jharkhand
MS Dhoni parents tested positive for covid-19, admitted to hospital in Jharkhand